Company Updates
How I Stay Grounded During Stressful Times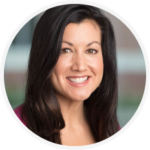 Kai-leé Berke
Co-Founder, Noni Educational Solutions
I've been hearing about the benefits of keeping a gratitude journal for several years (not ashamed to admit that I first heard about it from Oprah!).
Keeping a daily reflection on a few things that you're grateful for is a way to stay focused on the good in your life and to appreciate your many blessings, even when life seems stressful. At this back to school season, I decided to make the commitment to doing it.
I am an obsessive to do list maker. I ALWAYS have a list going. There is something deeply satisfying to me about accomplishing tasks and crossing them off of my list. In fact, I have been known to add things to my list after completion just so I can cross them off. So, I found a new to do list journal that has space on every page to write three things that I'm grateful for each day.
I forced myself to create the new habit of writing those three things BEFORE I allow myself to begin my to do list.
It was difficult at first. The perfectionist in me wanted to write three deep and insightful things, so I found myself laboring over them with the distraction of really just wanting to write my to do list. After a few days, I decided that I'd try writing the first three things that came to my mind. After all, no one else was going to see these lists besides me. I gave myself permission to let go of perfection. That day I wrote: quiet mornings to work, fresh flowers, breakfast with my kids. Every day thereafter, I took that approach. Writing the three things that naturally came to me, I began to see patterns in what I was focusing on. Those three things would start to set the tone for the day. I could see those elements reflected in my to do lists which, I also noticed, started to get shorter.
I realized that by beginning each day with a reflection (even a very short one) on gratitude for the good stuff of life, I was setting a positive tone for my day that allowed me to focus more energy and attention on what matters most to me.
Consistently, those things for me are my family, my work, and my health. And while I certainly knew those three things were my top priorities, prior to the gratitude reflection practice, writing about them nearly every day has helped me to keep them as top priorities, even through the stress and noise that comes with a busy life.
So, with gratitude in mind this Thanksgiving season, I want to express my deepest gratitude for your partnership with Teaching Strategies over the last 40 years.
And as an early childhood advocate, educator, mother and community member, I want to thank you for your unwavering commitment to the children and families you serve. The high-quality early care and education that you provide to our nation's youngest and most vulnerable learners is instrumental in shaping a better and more hopeful world for them and for all of us. And for that, we are all truly grateful.