Uncategorized
Helping Children Create a Calm-Down Place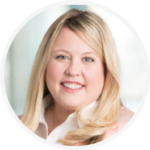 Breeyn Mack
Senior Vice President of Education, Teaching Strategies
Taking a deep breath, counting to 10, closing our eyes… all of these are tried-and-true strategies for calming our bodies when emotions feel too big. When children experience strong emotions such as fear, sadness, or a sense of being overwhelmed, it is important to help them manage those feelings and use calm-down strategies when necessary.
Even on the most routine of days, it is certainly appropriate to need to use calm-down strategies. But now, with so many families experiencing a day-to-day reality that has been flipped on its head, it is likely that strong emotions are even more present in your home—for your child and for you!
Practice Together
It's a good idea to practice calm-down strategies regularly with young children and to do so when they are not currently experiencing strong emotions. When you invite your child to join you in taking a few deep breaths in through your nose and out through your mouth while playing in the bathtub or cuddled up to read a story together, you are helping your child be able to readily access this strategy when they are feeling overwhelmed, angry, or frustrated.
Even more impactful in the long run than helping children learn how to manage strong feelings is helping them recognize when they are starting to feel overwhelmed or frustrated and that they can take some time to calm their bodies down and feel more comfortable.
A Cozy Corner
Consider creating a calm-down place in your home that gives your child a special area to process their feelings, relax, and take a break. It doesn't need to be elaborate. You can actually invite your child to help you set it up—a cozy corner somewhere with a couple pillows, a soft blanket, a few books, and maybe a stuffed animal or two.
It's important that this area never be used for something punitive like a "time-out" or a consequence, as that will defeat its purpose of being a place to practice calm-down skills. Instead, you'll want to celebrate it as a special spot your child can choose to go to when they want to cool off, relax, or take a break.
You know your child best. After they've had a few moments in the calm-down place, see if they'd like you to sit and chat with them about what they're feeling. It can be really frustrating, for example, when a younger sibling keeps knocking down their block tower or feel overwhelmingly sad to be away from friends and teachers at school. A conversation after a child has had a few moments to calm their body down is generally far more productive, accurate, and meaningful.
Adults Need a Calm Space Too
Lastly, for many parents and caregivers, the day-to-day dynamic at home looks really different right now and you are juggling A LOT! It's important to recognize that you yourself may need to leverage some of these strategies. Don't feel like you need to hide your feelings. When you model for your child that you, too, sometimes feel overwhelmed and can calm your body and mind by taking deep breaths or sitting quietly in your favorite chair looking at a magazine, you are teaching them that their feelings are also okay and that learning to manage those feelings is important work that even adults need to practice from time to time.
Check out our Classroom Connect page for Weekly Guided Learning Plans to support families with daily routines, study explorations and more.