Support Coaches Who Support Educators
The Coach Membership is designed to help leaders, teacher career coaches, instructional coaches and those who guide teachers to apply best practices, build subject matter expertise, and achieve high fidelity to maximize outcomes with The Creative Curriculum and GOLD.
Join a five-week program to rapidly elevate coaching practices.
Work with a dedicated coaching mentor.
Receive 24/7 access to over 400 hours of content to build subject matter expertise.
Engage with a professional learning community of educators and experts.
Ready, Set, Coach!
Join a 5-week program dedicated to rapidly providing coaches with the training they need to support teachers in achieving fidelity of implementation and elevating their early childhood education instructional practices.
Coach Mentorship
Advance your coaching practice with a personal mentor, private virtual coaching sessions, interactive small-group coaching sessions*, and weekly live discussions.
Coaching to Fidelity App
Equip coaches with the tools and guidance they need to measure fidelity and effectively guide teachers towards optimal implementation of The Creative Curriculum for Infants, Toddlers & Twos, The Creative Curriculum for Preschool, or GOLD and best practices, including the ability to capture photo and video observations, embedded guidance and mitigation strategies, shareable action plans, and note-taking capabilities.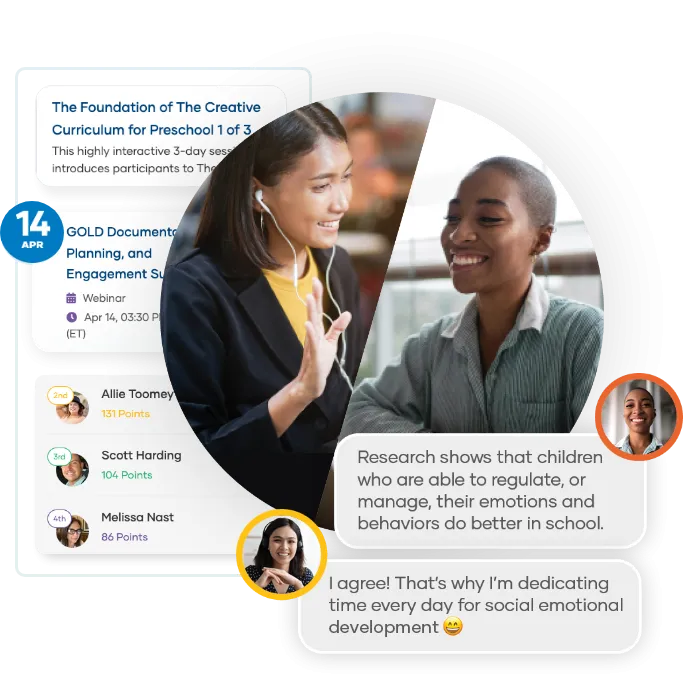 Professional Learning Community
Engage, connect, and share experiences with other early childhood educators through mentor-moderated discussion forums; exclusive community groups, including a "Coaches Corner"; and the open sharing of ideas. Plus, gain insights into teacher needs and challenges.
On-Demand eLearning Courses
Enjoy a comprehensive professional development system with unlimited access to a large catalog of flexible, modular, and asynchronous courses in English and Spanish; over 400 hours of research-based content; all training required by CCDF annually and for the CDA credential; the ability to earn continuing education units (CEUs) and state training hours; personalized learning journeys; real-time progress tracking with a professional development dashboard; and certificates and badges.
Live Classes
Gain unlimited access to register for scheduled, live, and virtual professional development sessions on a variety of popular topics.
I have to admit this coaching thing is AWESOME.
Aileena Acoff, Teacher, Early Childhood
Detroit Public Schools Community District
More Reasons to Love
the Coach Membership
Track Teacher Progress and Growth
Coaches can report on teachers' progress, monitor action plans, personalized learning journeys, certificates, and badges in real time.
Coach for Success
At Teaching Strategies, we believe that early childhood classrooms are most successful when they implement curriculum and assessment with fidelity. Coaching helped Detroit make big gains for little learners.
Set Teachers Up for Success
Programs that provide 30–100 hours of professional development over 6–12 months see the most significant impact on child outcomes. When teachers are supported over time by a coach, their confidence increases, and their classrooms show it.
All CDA Training
Includes all the courses necessary to satisfy the 120 hours of training required to earn the Professional Recognition's Child Development Associate (CDA) credential.
Meet Annual CCDF Requirements
Includes all courses needed to meet CCDF requirements for programs to complete training in 11 topics each year.
Continuing Education Units (CEUs)
and State Training Hours
Guide teachers to earn continuing education units (CEUs) and state training hours in the areas you believe they need most.
Course Previews
Preview our on-demand eLearning courses that are packed with research-based content, interactive games and engaging videos and created in a flexible, modular format.
Administrative Leadership
Building Strong Relationships with Families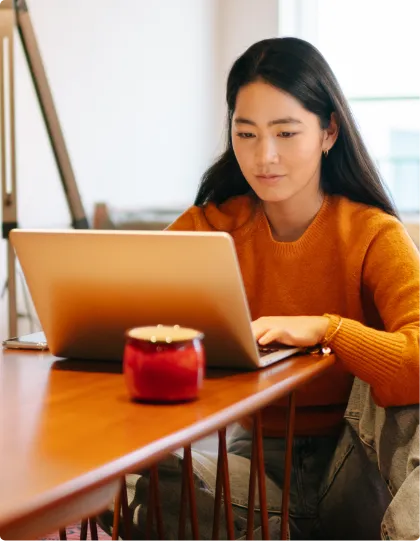 A Champion for Every Teacher
In every classroom is a teacher who is impacting the lives of children. Make an impact on them with the support of a coach who is an expert in early childhood education.
*Includes up to 3 hours of private coaching per year.