The #1 Ranked Preschool Curriculum
The Creative Curriculum for Preschool empowers children to be confident, creative, and caring learners through play-based, hands-on investigations—a research-based approach that incorporates language, literacy, and mathematics throughout the day.
nurture the whole child with the only skill progressions from birth to age 8
connect families to what their children are learning
provide support for teachers when and where they need it
Print Resources
Spanish, or bilingual versions also available
The Foundation
7 Foundation Volumes (print and digital)

Volume 1: The Foundation
Volume 2: Interest Areas
Volume 3: Social–Emotional, Physical & Cognitive
Volume 4: Language & Literacyo   Volume 5: Mathematics
Volume 6: Science and Technology, Social Studies & the Arts
Volume 7: Objectives for Development & Learning, Birth Through Third Grade

Getting Started Guide (print and digital)
Daily Resources
20+ Teaching Guides (combination of print and digital)

The First Six Weeks
Getting Started Guide
Balls
Buildings
Clothes
Reduce, Reuse, Recycle
Trees
Water
Wheels
Exercise
Insects
Sand
Signs
Simple Machines
Tubes and Tunnels
Bread
Pets
Roads
Music Making
Boxes
Exercise
Cameras
Light

Intentional Teaching Experiences (251 bilingual, in print and digital)
Mighty Minutes (300 in digital, 100 in print)
Children's Book Collection and 20 Book Discussion Cards (more than 200 digital, 73 in print)
20 Mighty Minutes Posters (bilingual, print only)
Teaching Strategies Resource Organizer
The Creative Curriculum Cloud

Streamline planning, teaching, and family engagement anywhere, anytime, with 24/7 access to the full library of curriculum resources, in both English and Spanish; engaging, multimedia family-friendly playlists tied directly to classroom instruction; a Digital Children's Library; and two-way communication with families.

Professional Development

With the Teacher Membership, receive detailed guidance, support, and encouragement through a built-in online professional learning community; embedded microlearning; and flexible courses provided in a variety of formats, including all CDA and CCDF training.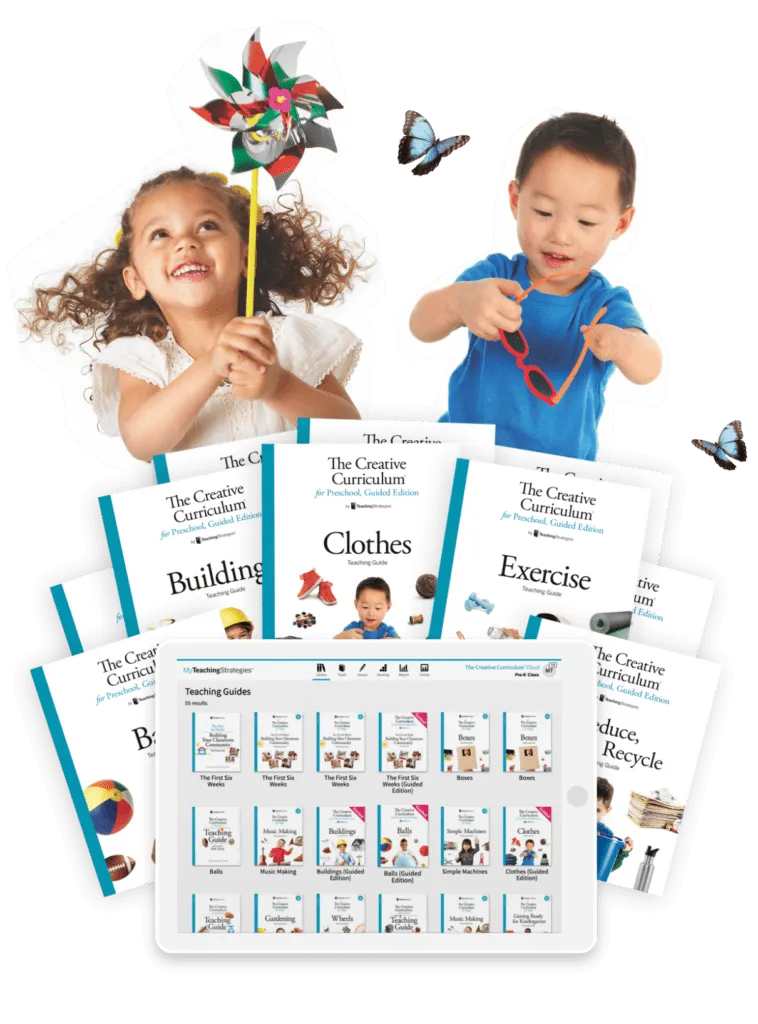 Inspire Children With Project-Based, Investigative Learning
Build children's confidence, creativity, and critical thinking skills through hands-on, project-based investigations. Promote discovery and inquiry with opportunities for children to think critically and develop process skills with rich, hands-on investigations of relevant and interesting topics in the classroom. Reinforce learning with family-friendly activities designed for home.
Teach Smarter, Not Harder
Discover smart tools for responsive planning and meaningful engagement with every child and family. Designed to work for you, The Creative Curriculum Cloud streamlines planning, teaching, and engagement so you can focus on the important work with children that no technology could ever replace.
Differentiate Learning
for Every Child
Individualize instruction by understanding how children's abilities progress and supporting them with unique color-coded progressions that show the typical development of skills from birth through third grade. Effectively scaffold learning experiences to respond to each child's current strengths and needs, including those with disabilities, with embedded guidance and strategies located on curricular resources.
Boost Teacher Confidence and Joy
Unlike any other curriculum, embedded video-modeling supports teachers when and where they need it for each focused learning experience. With guidance, support, and encouragement for effective implementation, teachers feel confident creating joyful learning experiences for every child.
Promote Language and Literacy Skills
Each day, utilize daily resources focused on language and literacy skill development, and read aloud using our children's book collection and Digital Children's Library from a wide range of genres that explore life in other cultures, celebrate diversity, spark curiosity, and inspire children's imaginations.
Integrate Language and Literacy Daily
Nurture Mathematics Skill Development
Throughout the day, include meaningful discussions and applications to develop the essential mathematical process skills of problem-solving, reasoning, communicating, making connections, and representing. Just like these skills are used by children in their daily lives, we integrate mathematics skill each day in our pre-k curriculum.
Build the Social–Emotional Foundation Children Need
Promote social–emotional development with support from a new foundation volume focused on social–emotional, physical, and cognitive development; Teaching Guides with a special social-emotional, including The First Six Weeks: Building Your Preschool Classroom Community; Daily Resources designed to build social-emotional skills; and embedded coaching and support for social-emotional development.
Connect the Dots Between Curriculum and Assessment
Amplify the power of The Creative Curriculum for Preschool by adding GOLD formative assessment. Capture observations in the moment and automatically connect assessment data to daily instructional resources, creating an instantaneous feedback loop for the teacher to effectively and easily individualize learning for each child.
The Creative Curriculum provides a scalable way to support a novice teacher to grow into a masterful teacher.
Aaron Ross-Franco, Early Childhood Education Coach
Edmonds College, Bellevue, WA
The Creative Curriculum is a rigorous framework of study that is developmentally appropriate while still meeting the needs of individual learners. The team of experts at Teaching Strategies have supported our district in ways that exceed expectations.
Carrie Pearson, Ed.D., Director Early Learning Program
Keller Independent School District, Keller, Texas
More Reasons to Love The Creative Curriculum for Preschool
Frequently Asked Questions
Improve Learning Outcomes for Every Child
Let us help you begin your journey of transforming your program with The Creative Curriculum for Preschool.