Uncategorized
10 Strategies for Hellos and Goodbyes From Afar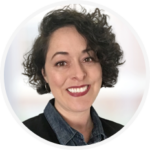 Clarissa Martínez
Dual-Language Content Manager, Teaching Strategies
In a time of social distancing, how can you maintain the warm and loving interactions that are especially essential for infants, toddlers, twos, and their families during drop-off and pick-up times? How can you maintain a consistent routine for hellos and good-byes when safety protocols, restrictions, and guidelines are being updated and changed so frequently?
We know these are the questions many of us, myself included, are wondering. As you begin to plan your approach and continue to refine it over the coming weeks and months, I wanted to share some tips and strategies you may find helpful, or, at the very least, reassuring.
10 strategies for maintaining a warm hello and good-bye routine:
Acknowledge how difficult this time has been. Our experiences have likely been shared by families. We have all faced stress and fear. As teachers and caregivers, you are probably just as grateful and nervous as families are to return to "normal." Returning to an early childhood center may cause teachers, caregivers, and families alike to wonder, "How will recommended physical distancing be maintained?" "Are sanitation protocols in place to keep adults and children safe?" "Will we be safe returning to the center?"
Plan a staggered drop-off and pick-up schedule. Keep groups small to reduce the number of children and adults circulating at entrances. Assign each family a window of time to drop off or pick up their child. Limit access to the building to maintain physical distancing.
Maintain continuity of care. As much as possible, put children in the same classroom with the same teacher or caregiver as before. The familiar faces, furniture, materials, and sounds will help the child to feel secure and will limit the number of "variables" she experiences during this transition back to group care.
Establish your "pod." Determine which adults will be able to enter the classroom, limiting this number as much as possible. For example, you might have meals delivered to the door for "hands-free" drop-off and limit where teachers and caregivers take breaks, e.g., having staggered breaks in common areas or encouraging taking breaks outdoors while maintaining proper distances.
Send a picture or video of yourself wearing a mask to the children's families before they return. Though infants, toddlers, and twos may remember your face and voice, they may be confused when they see you behind a mask. If you are taking children's temperatures upon arrival or wearing gloves or other protective personal equipment, be sure to demonstrate the process and how you will be using them in the photo or video, and send it to the family in advance.
Encourage families to send washable "loveys" that can also be sanitized with their child. For example, you could ask families to send a digital family photo to create a double-sided photo card with teachers and caregivers on one side and family members on the other side. Laminate the photo card for children to have at home and at school. Invite children to bring in one favorite, small item from home—a "lovey"—and establish a process for cleaning the "lovey" as children arrive and before children leave.
Establish a welcome activity for children as they arrive in the classroom. Plan for a consistent welcome activity for children that meets their specific needs. You may choose to start with handwashing and then an active dance, a cozy read-aloud, or an invitation to explore a special classroom material.
Create "social stories" or rituals for hellos and good-byes. Share song, rhymes, or social stories with families. Encourage families to use start the hello rituals on their way to school. As families arrive, continue singing, rhyming, or telling the story as you welcome the child into the classroom. At the end of the day, use the good-bye songs, rhymes, or social stories to prepare children for the transition home. Encourage families to continue the routine on their way home. Consider using Mighty Minutes from The Creative Curriculum as part of your hello or good-bye routines.
Send families photos or videos of their child in the classroom. Reassure families that their child is happy and having fun by sending a photo or video of their child soon after drop-off. This will help families feel secure, knowing that their child is safe and being cared for by people who love him. Encourage families to share photos or videos of their child at home to encourage this two-way communication. Apps and programs like Tadpoles and our new Distance Learning Solution help families share and receive information about their child throughout the day.
Practice self-care. As a teacher or caregiver, offer yourself some grace during this time. Remind yourself that change is hard and pivoting to meet changing needs can be exhausting. Find ways to take care of yourself. Being kind to yourself is important for your own peace of mind and it offers a model for families who are also facing stress and uncertainty.
The last few months have required everyone to get creative with how they live, work, and shop. We are washing our hands with greater care and frequency, we are staying home and limiting our visits with friends and family, we are wearing masks while out in public, and we are sanitizing surfaces like never before! And now, we're planning for a nontraditional approach back to the classroom.
We are so grateful for the work that teachers and caregivers are doing to welcome infants, toddlers, and twos and their families back to school. At this time, the care and love you bring to your work is especially vital for children's sense of well-being. We thank you and are honored to be your partners during these challenging times.
Looking for more information on supporting infants, toddlers, and twos and their families?
View an archive of our recent webinar, Engaging With Our Littlest Ones From Afar:
Supporting Families With Infants and Toddlers, on demand.