Best Practices
Responsive Relationships: Great for You and for Them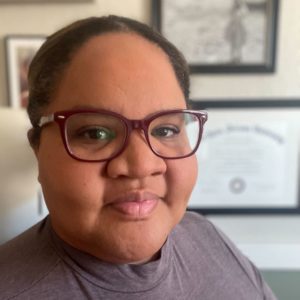 Nicol Russell, Ed.D.
Vice President, Implementation Research, Teaching Strategies
When I became a kindergarten teacher almost twenty years ago, one of the first things I learned (from the woman who would continue to mentor me throughout my teaching practice) was to always get down on the same level as the children. During centers, sit at a table with children. When reading a book during circle time, sit on the floor with the children. If taking photos on the playground, kneel in the grass. At the time, I thought she wanted me on the same level as the children because, at 5'8", I was so much taller than they were. Now, as I reflect on what I learned all those years ago, I know what my mentor was teaching me: to develop relationships with the children that respected their views of the world and were rooted in closeness. That closeness enabled me to know the children deeply and to be responsive to their needs.
The National Scientific Council on the Developing Child says, "Healthy development depends on the quality and reliability of a young child's relationships with the important people in his or her life, both within and outside the family." Outside of a child's family, some of their most important relationships are with people just like you—teachers, caregivers, and administrators of early learning programs in settings from homes to centers to schools. One way to continuously improve the quality of your relationships with children is to ask yourself: How am I responding to the children and am I, as a teacher and caregiver, meeting their individual needs? Focusing on the responsiveness in your relationships with children is not just beneficial for them but for you as well.
How?
Responsive relationships help you to keep an empathetic heart. Empathy, if you ask me, is a key ingredient for creating equity in early care and education settings. When you, the adult and teacher can put yourself in the children's shoes, it can change your perspective about everything from the content of the curriculum to the classroom climate. Children will reap the benefits of your empathy when they see décor in the environment that reflects their home lives and their community experiences. This includes seeing positive images of people with their skin shades engaged in work and play that is familiar to them. Families will feel it by the different ways you seek to engage them, including the various ways you choose to communicate with them. This means you know what language(s) are spoken in their homes, what their work schedules are like, and the best time to reach them.
Responsive relationships help you to be an effective instructional engineer. Yes, you are an instructional engineer, working in both planned and improvised ways to engage children in meaningful learning. When you respond to the ways children learn and take their cues about their interests, you are better able to support their deep, sustained learning. Using a system for documenting how and what children are learning is essential for keeping track of children's needs. Teachers and caregivers who use GOLD have a dedicated, online platform that not only provides a place to record observations, but provides information about appropriate developmental expectations of children. This gives teachers and caregivers knowledge to craft learning opportunities that help children stretch their cognitive muscles and grow.
Responsive relationships can bring you joy. There is no other way to put it except to say that when you respond to children and they respond to you, you create a reciprocal, mutually beneficial relationship that will bring happiness to your heart. You can experience true joy in providing children with trusting, caring relationships with someone outside of their families. This can help keep you encouraged when you are faced with particularly stressful days or situations. It can help you avoid burn out or fatigue. It can help you find resiliency even when the odds seem impossible.
I think back to my days of being in the classroom with such fondness, and that is because what I remember most is the way I felt every day with those children. I felt just as excited as Maddie when, after weeks of attempting it, she was able to get from one end of the monkey bars to the other without having to let go. I felt just as nervous as Jonathan the first time he had to ride on the bus to go home after school instead of being picked up by his mom. And I laughed just as heartily as all the children did the first time Yosef broke out in his Barry Manilow impression and sang a boisterous rendition of "Copacabana" on the bus home from a field trip to the aquarium. These memories, I realize, mean so much to me because they remind me of the relationships I had with those children, and I wish for you to have the same kinds of warm memories of the children you are caring for and teaching.
Enhance your classroom
Learn ways caregivers and teachers can create environments that enable great experiences for our youngest children in our webinar.