Implementation
The Bright Side of Assessment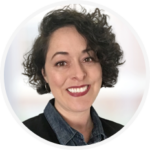 Clarissa Martínez
Dual-Language Content Manager, Teaching Strategies
It's that time of year again!
It's the time when educators in early childhood programs around the world are writing final observation notes, videos and photos are being examined, and progressions are being pored over with careful attention to punctuation and the words "and" and "or."
For many programs, it's right around the corner: the mid-year assessment checkpoint!
During this exciting time, teachers use their observations to thoughtfully evaluate each child's knowledge, skills, and abilities. We all know that this can seem like a daunting task. Teachers have so many things on their "to do" list! So, let's shift our mindset and think about how assessment data can actually make a teacher's life easier and more productive. The child outcomes data that teachers painstakingly gather give us opportunities to celebrate our successes and identify when something isn't working.
As teachers, we know it is vitally important to access real-time child assessment data when determining exactly which objectives we will target through instruction and experiences.
Assessment data can help teachers answer crucial questions about the class, small groups, and individual children:
Which objectives are strengths for the children in my class?
For which objectives do the children in my class need more experience?
How can I organize small groups to target the specific needs of the children in my class?
Are there children whose knowledge, skills, and abilities indicate they need more advanced experiences to keep them challenged and engaged?
Which objectives will I share with a child's family to help them provide meaningful support at home?
GOLD as accessed through MyTeachingStrategies offers a variety of report options for administrators and teachers.
Let's take a closer look at two of the reports created specifically to help teachers reflect on children's development and learning to inform the support they offer to children.
The Class Profile Report helps teachers compare information about the entire class's current knowledge, skills, and abilities with the widely held expectations for their age or class/grade. Using this report, teachers are able to form small groups around addressing certain objectives and skills and identify the objectives on which to focus class instruction. (Image up top!)
The Development and Learning Report helps teachers share an individual child's current knowledge, skills, and abilities with families. The report explains what to expect next in the child's development and can be customized to share information in the most accessible way possible for each family. This report can be particularly helpful for teachers when talking to parents about what to look for in their child's progression.
Assessments are an important part of our work with children.
Though it's easy to get lost in numbers, charts and graphs, and statistical information, it's important that we stay focused on what these data are all about—the children. Data are just a mirror that helps us reflect more deeply on our instructional practices and find answers to our questions; it gives us problems to be solved as well as a celebration of success. For classes to continually improve, we need to continually reflect on how to provide the best experience for the children and families we work with.
Good luck, and happy checkpoint season!