Company Updates
Innovation & Evolution: Continuous Improvement to Meet Your Changing Needs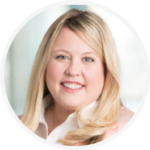 Breeyn Mack
Senior Vice President of Education, Teaching Strategies
As the landscape of early childhood education continues to evolve, educators face new challenges and, as a result, express new needs. For over 40 years, we've been committed to providing the resources that you need to conquer each new challenge. The way you teach today looks different than how educators taught 10, 20, 30 years ago and—especially in 2020—even different from the way you taught last year.
Your changing needs drive the evolution of The Creative Curriculum for Preschool, a comprehensive curriculum providing you with what to teach, the reasons why you teach it, and the resources and digital tools you need to do so in a meaningful and effective way that prioritizes the individual needs of all children.
The team, which includes myself, that designs our curriculum resources is entirely made up of former teachers and directors in the early childhood space.  Every day we are motivated to create the resources we wished we had when we were in the classroom. As part of that effort, we regularly interact with educators still actively working in the field so that our commitment to continuously innovate and improve is driven by your specific feedback and needs. Over the last few years, we've had meaningful conversations as we've learned about the problems you are encountering, things you wish you had, and ways we could make our solutions easier for you to use to fidelity so you can be as impactful as possible and prioritize your time to intentionally and responsively engage with children.
The Creative Curriculum for Preschool, Guided Edition is not just an updated edition, but rather a re-imagined and innovative curriculum designed directly to address the feedback we heard from the field while still protecting the flexibility and child-centered focus of our approach that we value so highly.
For The Creative Curriculum for Preschool, we learned that you need
more embedded coaching directly in the Teaching Guides;
foundation volumes that are easier to digest;
digital access to the full collection of your curriculum resources;
direct, stronger links to formative assessment observation collection;
packaging that make organization and preparing for a study easier;
shorter studies that allow you to cover more topics throughout the year;
posters that bring your favorite Mighty Minutes to life with no extra preparation;
curated image collections to support your study topics; and
more strategies and research to support social–emotional, physical, and cognitive development
We know that implementing a new curriculum is often hard, but it doesn't have to be.
The Creative Curriculum for Preschool, Guided Edition features the same approach you know and love—a hands-on, investigative and flexible approach to learning. This new edition, however, reflects your feedback and offers a comprehensive offering that supports teachers to be confident and successful from day one.
The Creative Curriculum for Preschool, Guided Edition
Bring imagination to life without compromising academic rigor with The Creative Curriculum for Preschool.