Uncategorized
A thank you to our Head Start partners.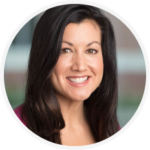 Kai-leé Berke
Co-Founder, Noni Educational Solutions
Every year, the NHSA annual conference provides me with a beautiful reminder of how much I value our partnership with all of you, our Head Start partners.
For decades, Teaching Strategies has had the honor of supporting the critically important work you do to care for the nation's youngest and most vulnerable children. I firmly believe that the work you do each day has an invaluable impact on not only those children, but also on your community as a whole. That's just one of the reasons why your partnership is so important to us.
As an early childhood educator and program administrator, I faced many of the same challenges that you experience every day.

Challenging behaviors, teacher turnover, limited resources… the list goes on and on. That's why it's so important that we are working with you as we produce and help you implement resources that meet your unique needs—resources that make it easier to provide all of the children in your care with the high-quality education they deserve.
You give so much—so this year, we're giving back to you.
At this year's NHSA annual conference, we're giving away 40 classroom resources representing the 40 years that we've supported and partnered with the Head Start community—everything from nonfiction books and Mighty Minutes® to full sets of The Creative Curriculum® and an in-person professional development session for your program. Just stop by our booth (#103) or one of our conference sessions to sign up for your chance to win, and then join us on Wednesday evening at 5:00 p.m. as we announce the winners!
Thank you for letting us be a part of your story and for providing us with daily inspiration over the last four decades. We can't thank you enough for the important work you do.
Mahalo,
Kai-leé