Uncategorized
Studies at Home for Twos: Week One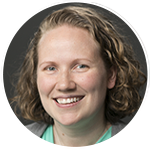 Erin Seagraves
Content Development Manager, Teaching Strategies
This is the second post of a five-part series, Studies at Home for Twos. Each Monday, over the next four weeks, Erin Seagraves, author of many resources in The Creative Curriculum®, will be sharing guidance to engage your child in a hands-on study of containers at home.
Welcome to week one of Studies at Home for Twos! I'm so excited to begin studying containers that are commonly found within your home, such as food storage containers, bottles, bowls, and bins.
Why study containers?
Have you ever noticed your child playing with a container? You may have seen them feed a baby doll a bottle; pack pretend play foods into a lunch box; or stack, nest, and bang on the containers they emptied out of your kitchen cupboards. Containers are fascinating to young children because they offer opportunities to open and close, fill and dump, take apart and put together, imitate what they see adults doing, and complete tasks independently. Also, the wide variety of container types means that you can follow your child's interest to explore containers in your own unique way as they play, create, eat, and drink!
Children's natural curiosity about and interest in containers can lead to many questions. We will begin our Studies at Home for Twos series by investigating the question How do you open and close containers?
Week 1: How do you open and close containers?
Outlined below are five activities to explore with your child. You may choose to do one activity each day or a few activities one day and none another—whatever works best for you and your child! If you notice your child losing interest in an activity, take a break and try again later. Repetition is an important element in young children's learning, because each time they engage with the materials they are building on what they know. Additionally, if you do not have the suggested material for an activity, feel free to swap it out for something you already have on hand.
Activity 1: What are containers? What containers do we have at home?
Show your child a few simple containers such as food storage containers, lunchboxes, or shoeboxes. Tell your child that they are all containers!
Explore the items with your child and wonder aloud: "I wonder what other containers we have in our home?"
Invite your child to go on a "container hunt" with you and collect or point out other containers you have around your home. Tell your child each of the container's names.
✓ shoeboxes
✓ wipes containers
✓ take-out containers
✓ food storage containers
✓ bowls
✓ tissue boxes
✓ measuring cups
✓ baskets
✓ soap dispensers
✓ boxes
✓ nesting cups
✓ spray bottles
✓ jars
✓ toothpaste tubes
✓ baby bottles
✓ shape sorters
✓ lunchboxes
✓ jugs
✓ canisters
✓ cereal boxes
✓ trash cans

Activity 2: Putting Lids On and Taking Lids Off
Offer your child a few containers with lids that come on and off easily, such as shoeboxes or small cardboard boxes.
Show your child how to take off and put on the lids. Then invite your child to explore the containers with you by taking their lids off and putting them back on.
Demonstrate how to problem-solve as you put the lid back on the container: "My lid isn't staying on the container. Oh! I have it upside down. I will turn it over. Now it fits!" or "This lid isn't going on. Hmmm. I think I need to turn it to see if it will fit another way."
How do two-year-old children solve problems?
Problem-solving is an important component of your child's cognitive development. Two-year-old children often solve problems by watching others and imitating their actions. By modeling or showing your child different strategies for figuring out how to put a lid back on a container, you are building a positive relationship with her and supporting her cognitive development!

Activity 3: The Great Lid Match!
Display three boxes with lids that are different shapes, colors, or sizes.
Mix up the lids and boxes and encourage your child to match the lids to the correct container.
Continue the activity by rotating in new containers.
Activity 4: Opening and Closing Hinged Containers
Offer your child a variety of hinged containers, such as pencil boxes, plastic or cardboard take-out containers, or lunchboxes, along with items to put inside the containers such as pretend play food.
Show your child one of the containers and try to open it by lifting off the lid. Say, "Oh, this container has a different kind of lid. I wonder how to open it." Model how to open the container by lifting the tab on the side.
Encourage your child to explore opening, closing, filling, and emptying the hinged containers.
Let's Pack a Lunch!
Often times young children are most engaged when they get to take part in typical routines and activities that happen around the home, such as helping a family member wash windows or vacuum up crumbs from underneath the table. Consider extending or modifying this activity to pack a picnic lunch or snack in a lunchbox with your child. They can help open the container, put the food inside, and close the container. Then you can enjoy your picnic together on a blanket in your yard or on your living room floor!

Activity 5: Opening and Closing Twist-Top Containers
Show your child several twist-top containers such as their water bottle; clean, empty spray bottles; or soap pumps.
Hold up one of the containers and try to pull the lid off. Say, "This is a different kind of lid. You can't open it by just pulling on it." Model how to twist the lid off of the container.
Invite your child to practice twisting the lids to take them off of the containers and put them back on. Remind them to keep twisting in same direction until the lid comes off. Support your child as needed by holding the container while she twists its lid on and off.
If possible, invite your child to practice opening and closing twist-top containers as part of his daily routines. He can help open his water bottle in the morning to fill it up or help twist the lid back onto the jar of peanut butter at lunch!
Twist & Clap




Warm up for activity 5 by inviting your child to twist and clap his hands as you sing the following to the tune of, "Row, Row, Row Your Boat."

Twist, twist, twist your hands. Twist them back and forth. Clap them high. Clap them low. Now clap them very slow.

Thank you for taking part in our Studies at Home for Twos! I can't wait to see what you and your child discover about opening and closing containers this week. Share your discoveries with us in the comments below or via social media using the #studiesathome—don't forget to tag us!

Check back next Monday for activities that focus on the next investigation question:
What do containers hold?
For nearly two decades, The Creative Curriculum® for Infants, Toddlers & Twos  has supported teachers and caregivers as they create responsive daily routines and meaningful learning experiences for the youngest learners. Now, with Expanded Daily Resources for Twos, teachers can nurture children's innate curiosity and interests by promoting engaging hands-on investigative learning.