Company Updates
Lights, Camera, Action: Build Upon Preschool Children's Natural Curiosity With These Two Studies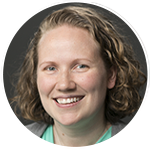 Erin Seagraves
Director, Content Development, Teaching Strategies
Studies, which allow children to learn through hands-on investigation, are the heart of The Creative Curriculum for Preschool. Studies invite children to investigate authentic, interesting, and open-ended questions or problems to discover more about an engaging topic. This investigative approach lets children take the lead in discovering answers to their questions, solving problems, researching new information, and sharing what they learn. To support children's investigative process, teachers ask interesting and thoughtful questions, provide relevant materials, and closely observe children's explorations so they can respond in developmentally appropriate ways.
Studies build critical skills: how to work well with others, take initiative, process and share information, and use tools and technology. Studies support all areas of children's development and learning as children ask and answer questions and discuss topics, creatively problem-solve, and research and document their findings.
Try the following activities in your classroom to get a sneak peek of the type of activities included in the new studies.
Why study cameras?
As technology has advanced, cameras have evolved from devices people used occasionally to document special events into tools that people use frequently to capture photos and videos of their everyday lives, communicate with others in real time, create art, and do so much more!
The wide availability of cameras means that most children now use and are more aware of cameras than ever before. From birth, children have often seen people use cameras, had their pictures taken and been filmed, and viewed pictures and videos made with cameras. All of these authentic experiences build children's natural interested and curiosity about cameras, making a study of cameras meaningful and exciting for children.
Try this out with the children in your class! Cameras Activity: How can we use cameras to make videos?
Gather a video camera, instruments, and other music and movement props, such as scarves.
Show the children the camera and ask, "What kinds of videos can we record with this camera?"
Demonstrate the steps for recording videos with the camera.
Play lively music and invite the children to dance.
Ask the children to take turns recording short video clips of each other dancing.
Remind the children to make sure the other children are in view as they record.
Why study light?
Light is all around us and makes our lives brighter and easier each day. Both natural and artificial light can be found in our homes, workplaces, and classrooms; on toys, electronics, and appliances; and outdoors. Children engage with light from a variety of sources and in many different ways. For example, children might use a lamp to read a book with family members or use a night-light to feel safe in the dark.
A study of light invites children to engage in hands-on investigations of familiar light sources, such as flashlights, night-lights, lamps, and strings of light. As children become more familiar with and interested in lights, children can expand their understanding of light beyond these common light sources. On the playground, for example, children might notice the shade and shadows that are created by blocking the sunlight; at the light table, they may discover how light shines through some objects but not others; and during special occasions, they may notice candles burning on top of cakes or strings of lights used for decoration.
Try this out with the children in your class! Light Activity: How can light shine through paper?
Gather black construction paper, tissue paper, and thin cardboard (e.g., from a cereal box); a soft surface, such as a folded towel or carpet square; sharpened pencils; and flashlights.
Ask, "How can light shine through this paper?"
Show the children how to place a sheet of paper on the soft surface and use the pencil to punch holes in it. Then, with the lights dimmed, hold the paper over the flashlight and ask the children to notice how the light shines through the holes.
Invite the children to use the tips of the pencils to punch holes in sheets of paper.
In a dim area of the classroom, invite the children to shine the flashlight through the holes in their paper and notice how the light shines through them.
Encourage the children to experiment with using different kinds of paper and punching bigger and smaller holes to observe how the way the light shines through changes.
Thanks for trying these investigative activities. The Cameras and Light studies are available, along with many others, within The Creative Curriculum Cloud for Preschool.
On Demand Webinar
Elevate Your Preschool Curriculum with The Creative Curriculum for Preschool, Guided Edition.
For nearly four decades, The Creative Curriculum for Preschool  has supported teachers and caregivers as they create responsive daily routines and meaningful learning experiences for the youngest learners. Nurture children's innate curiosity and interests by promoting engaging hands-on investigative learning.