The building blocks for your
child's success
More than ever, it's important for your child to have the right set of skills to succeed in school and life. Your child's early years, from birth through third grade, are the foundation for their success in school and life, and research shows that children benefit most from a high-quality learning experience.
A high-quality learning environment is:
Research-based
|
Developmentally Appropriate
|
Adaptive to meet the needs of every child.
High-quality requires the use of a curriculum based on comprehensive early learning standards that address the whole child while remaining developmentally appropriate. And that's exactly what you'll find with The Creative Curriculum.
Support the whole child.
Go beyond the traditional definitions of academic success,
to focus on what works best for children.
The whole child approach provides children with a foundation that supports a lifelong love of learning, ongoing adaptability, and future success.  By promoting a child's long-term development and growth, this approach ensures children are not only educated, but healthy, safe, supported,
challenged, and engaged.
Our 38 research-based objectives are at the heart of our curriculum and define the path teachers take with children in their classroom. These objectives cover 10 different areas of development and learning within broad developmental areas, content areas, and English language acquisition.
The power of play.
Constructive and purposeful play in the classroom is essential for learning in
classrooms from birth through third grade.
Purposeful play encourages discovery and exploration, supporting children's academic growth. When children are learning through intentional play experiences, when they are exploring, investigating, and discovering new interests and new ideas, they are continuing to find joy in learning, and laying the foundation for a lifetime of learning.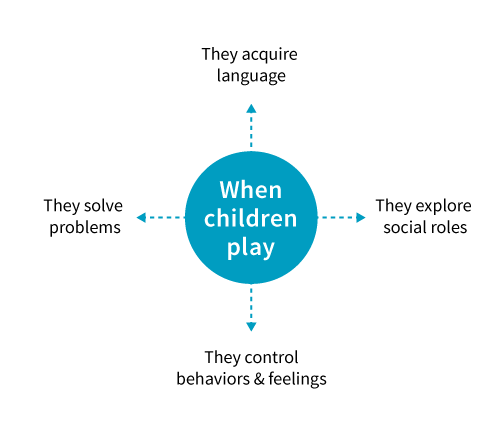 Imagination comes alive
with The Creative Curriculum.
Treat exploration and discovery as a way of learning, enabling children to develop curiosity, confidence, creativity, and lifelong critical thinking skills.
With curriculums for programs from infants to Kindergarten, The Creative Curriculum builds children's confidence, creativity, and critical thinking skills through hands-on, project-based exploration.
It helps teachers create a high-quality learning environment for the children in their care. Through studies, which are hands-on, project-based investigations, The Creative Curriculum helps teachers set children up for success, no matter where life leads.
What curriculum is your school using?
Ask your program for The Creative Curriculum today!