Best Practices
Educating the Whole Child: The Arts in The Creative Curriculum
My 4-year-old son, a yard work enthusiast since the age of two, consistently paints, draws, creates 3-D representations, sings, and role plays his feelings towards and understanding of yard work and landscaping. While on the surface, I find it sweet to watch, I also know that he is developing much deeper learning and forming greater cognitive connections as he engages in these creative expressions.
As I observe his play, I find myself thinking, "I hope my baby's first school experience is one where his ideas, creations, and creative thinking are not only embraced and respected but also nurtured."
Strengthening children's critical thinking while respecting and nurturing their creativity is not an arbitrary process. Rather, careful consideration and reflection is essential.
What type of support do teachers of young children need to facilitate high-quality art experiences without a daunting planning process? The answer is clear: one that is rooted in developmentally appropriate practices for teaching young children and guides teachers in their decision making.
The Creative Curriculum and the Arts
In early childhood, the arts do not need to be limited to crayons, finger painting, and dancing with scarves. The arts can serve as both a creative outlet and a means of exploration as children think critically about their work and the materials they engage with.
Young children's early exposure to the arts in high-quality early childhood settings can support the development of all domains of learning, including social–emotional and cognitive development, language and literacy, and mathematics.
The guidance in the Daily Resources of The Creative Curriculum supports teachers to intentionally include the arts in the classroom environment, daily schedule, and their interactions with children, while also empowering teachers to make thoughtful decisions based on their observations of the children in their care. The Creative Curriculum's foundation volumes also provide teachers and administrators with a grounding resource on developmentally appropriate practices for engaging young children in the arts.
Responding to Children
The way adults respond to children's work, including how they comment and ask questions, matters.
Describing what we notice about a child's efforts encourages children to explain their process, describe their creations in their own words, and explore the meaning behind their work.
Responding to children's comments and describing what we notice about children's work and play is far more valuable than asking questions about the arts as a subject. Asking questions such as "What would happen if you added more water?" or "How would you attach these parts of your sculpture?" encourages children to think about their play in new ways and promotes critical thinking as children learn to make connections and communicate their ideas.
When teachers ask questions and listen closely to children, they are better able to scaffold children's learning and ensure formal learning experiences are closely connected to children's ideas, discoveries, and interests.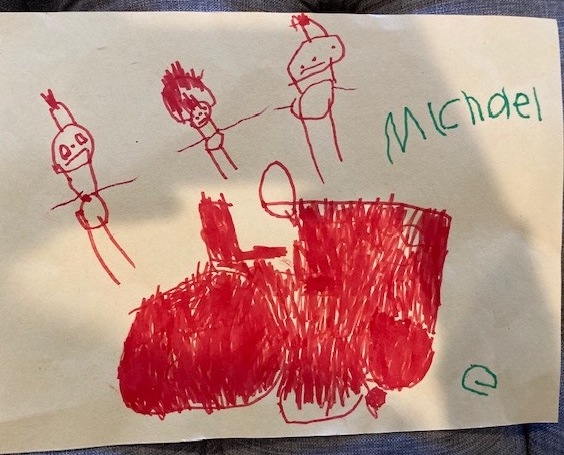 Considering the Materials
Preparing the physical environment by thoughtfully incorporating interesting materials that engage the senses in accessible ways invites children to explore and try out their ideas. Diverse materials—such as art materials, dramatic play props, and musical instruments and recordings—also offer children a variety of ways to communicate via different mediums.
By carefully considering the art materials offered to children, as well as the way they are introduced and displayed, teachers can send children and their families powerful ideas, including these four from The Creative Curriculum's Six Positive Messages.
This is a good place to be.
You belong here.
You can do many things on your own here.
This is a safe place to explore and try your ideas.
Emphasizing the Process
As with any form of creative expression, the value and opportunity for learning lies in the process, not the final product.
Process  – the value lies in the experience of creating art and exploring materials and techniques
Product – the value lies in the final product rather than the experience of producing it
For example, teachers can best support children's creativity through the arts by offering open-ended experiences instead of theme-based crafts that result in each child producing the same thing.
The goal of the early childhood teacher is to ensure children feel confident and capable as they engage in classroom experiences, which is why it is never appropriate to provide a model for children in terms of how to create something or prescribe what the final product should look like.
The Creative Curriculum reminds us that it is, instead, our interactions with children throughout their experiences that will best support children's deeper understanding and overall feeling that their artistic contributions are a valued part of the classroom community.
An Early Childhood Educator's Guide to a Whole-Child Approach
For everything you need to know about the whole-child approach, download our free eBook today.