Uncategorized
Studies at Home for Twos: Week Four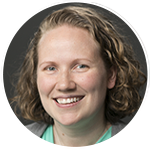 Erin Seagraves
Content Development Manager, Teaching Strategies
---
This is the last post of a five-part series, Studies at Home for Twos. Each Monday, for a total of four weeks, Erin Seagraves, author of many resources in The Creative Curriculum®, has shared guidance to engage your child in a hands-on study of containers at home.
---
Welcome to the last week of Studies at Home for Twos! This week, we will investigate the question How do people use containers? to discover the many practical and creative ways people use containers to store, carry, create, and play.
Time to Celebrate!
Now that it's the last week of the study, it's time to celebrate what you and your child have learned about containers. The small ways your child changes and grows each week add up to big steps in their development and learning. During this week, take some time to reflect on how your child engaged in the study activities. What skills did they practice or master? What new words did they say? How did they engage and persist throughout activities? What were they curious and excited about?
Week 4 Activities: How do people use containers?
Outlined below are four activities and a special celebration to explore with your child. You may choose to do one or a few activities each day––whatever works best for you and your child! If you notice your child losing interest in an activity, take a break and try again later. Repetition is an important element in young children's learning, because each time they engage with the materials they are building on what they know. Additionally, if you do not have the suggested material for an activity, feel free to swap it out for something you already have on hand.
Activity 1: People Use Containers to Clean
Show your child a spray bottle of soap and water that can be used for cleaning.
Explain that you use the bottle to spray water and soap on the table when it is dirty to clean it.
Demonstrate how to use a spray bottle and a cloth to clean the table using self-talk to describe your actions: "First, I'm going to point the bottle at the table, but not too close. Then I'll squeeze the trigger. I won't squeeze it too many times, though, because I don't want to make the table too wet. Then I will wipe it all up with my cloth. Now the table is clean!"
Invite your child to practice spraying and cleaning the table. Throughout the day, consider other ways your child can help clean with a spray bottle such as spraying and cleaning outdoor toys, washing windows, or cleaning counters before mealtimes.
Tell Me What You're Doing
In this activity, I shared an example of self-talk, which is a strategy where you describe what you are doing, thinking, or observing as you do it. When children listen to your words and watch what you are doing, they make important connections between the meaning of the words you say and your actions. Talking through each step as you model an activity also helps keep children interested and engaged.

Activity 2: People Use Containers to Hold Food
When you have leftover food after a meal or snack, show your child the containers you use to store the food.
Talk with your child about the size and shape of the container and why you chose it to store the food: "We have a lot of leftover spaghetti. I have this big container we can use to store it. We need a big container because we have a lot of spaghetti."
Invite your child to help you transfer the food to the container and place it in the refrigerator or pantry.
Help Me Be Helpful!
Throughout the study, you have given your child many opportunities to engage in practical life skills and help complete daily tasks such as cooking, cleaning, and organizing. These activities are important for young children to engage in because they give children opportunities to contribute to taking care of their home environment and take pride in completing useful tasks. Continue to look for opportunities to allow your child to practice his growing independence and help with household tasks.

Activity 3: People Use Containers to Carry Things
Show your child a bucket or bag and a variety of items that fit inside, such as blocks, cars, small books, or other toys.
Ask your child to help you drop items into the bucket or bag until it is full. Pick up the bucket or bag and say, "Oh, this bucket is heavy because it is so full!"
Invite your child to lift and carry the bucket or bag.
Invite your child to fill and look through the clear and colored containers.
Talk with your child about how buckets or bags help them carry many items at the same time: "I want to carry all of these blocks to the rug, but I can't hold them all. Look if we put them in the bucket, we can carry them all to the rug!"
Activity 4: People Use Containers to Play!
Show your child containers that you have for play. This could be a shape sorter; nesting cups; or a variety of clean, empty food containers.
Play with the containers with your child. As you play, copy your child's actions with the containers and model how you can use them in new ways.
Why Model New Activities?
One way that two-year-old children learn is from observing and imitating how others use materials. By modeling new ways to play with the containers, you are helping your child learn problem-solving strategies and supporting their creativity and inventiveness as they learn that there are many ways to use a material.

Activity 5: Celebrating Learning
When the study ends, it is important to reflect on and celebrate your child's learning. Below is a suggestion of how to celebrate, but you can choose to celebrate in any way that is meaningful to you and your child.
Show your child a collection of containers you used throughout the study.
Play an "I Spy" game with your child by giving her clues to find various containers in the displayed collection.
You can describe a container by its color, shape, use, what it holds, where it usually is in your home, or other detail your child learned during the study.
You might say, "Can you find the small container that we use to feed our baby dolls? That's right! It's the baby bottle," "Look for the container that is clear and square. You found it!," or "Where is the tall, black container that we put trash in? There it is. It's our trash can."
Thank you for taking part in our Studies at Home for Twos! It has been a joy to share these activities with you and to support the meaningful and important work that you do as your child's first and best teacher. If you have any stories or picture from the study, share them in the comments below or via social media using the #studiesathome—don't forget to tag us!
Want to continue to nurture children's curiosity and support their development and learning?
For nearly two decades, The Creative Curriculum for Infants, Toddlers & Twos has supported teachers and caregivers as they create responsive daily routines and meaningful learning experiences for the youngest learners. Now, with Expanded Daily Resources for Twos, teachers can nurture children's innate curiosity and interests by promoting engaging hands-on investigative learning.