Best Practices
Wishes for the New Year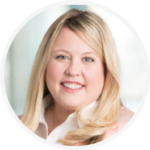 Breeyn Mack
Senior Vice President of Education, Teaching Strategies
Happy New Year, Everyone! In late December, we asked users of our online platform, MyTeachingStrategies, to share with us what they were most looking forward to in 2022. In the 24 hours that the question was posted, we received well over 1,100 responses, providing us with a far-reaching look into the hearts and minds of the early childhood educators we have the honor of partnering with.
First of all, let me say that we are deeply grateful for the honesty and depth of feeling you shared in your responses.
Many of you spoke with gratitude for the blessings in your life—of continued health and personal happiness and of the joy of watching young children develop and learn. We have taken those responses and created a word cloud, which you can see here.
In a word cloud, the size of the word reflects the frequency with which that word or phrase presented itself in the responses. You will quickly get a sense of the outpouring of desire for a return of "normal" and "normalcy" in 2022. I will share that I, too, have normalcy at the top of my list of hopes. In particular, I hope to reintroduce what I had imagined as "normalcy" for my daughter's day-to-day experiences and interactions, which she, quite frankly, hasn't had for two years at this point. I don't want to get used to this as "the new normal." How humbling it is to realize that the strongest desire for so many of us is just to "get back to normal."
Many others, however, spoke quite plainly of nearly unbearable levels of heartbreak, worry, frustration, and a sense of dread that they fear will continue into the new year.
From the teacher in Kentucky whose community was recently devastated by tornadoes, to the repeated mention of the difficulty of talking with and listening to young children through masks, to the lack of support (including substitute teachers), to the need for better pay for early childhood educators…your words were profoundly moving.
For some of your concerns, we here at Teaching Strategies cannot pretend to have the power to help. But we have indeed reviewed every single comment—at every level of our company—to determine where we can help.
Ways We Can Help
We hear the frustration some of you are having with ongoing technical issues, and we are committed to resolving them. We are currently substantially expanding our technology development resources and focusing them on improving the functionality and capability of existing features and tools. We are thinking deeply about what you do from one minute to the next each day and how we can make your transitions between teaching, assessing, and managing classroom dynamics seamless. We are carefully considering how to help you decide more quickly what to do "next" and put everything you need at your fingertips. Additionally, we are focused on how we can help you create a powerful connection with families to extend what is happening in the classroom to home and foster effective collaboration. Above all, we are committed to prioritizing the resolution of ongoing concerns.
We know you can't simply breathe deeply or journal your way completely out of the stressors every educator is feeling right now, but it certainly couldn't hurt as you take steps to prioritize your own well-being so you can best serve others. We are sharing two Self-Care Cards for you to try out from noni

, the latest addition to the Teaching Strategies suite of solutions, which provides teachers with personal coaching and support for building trauma-sensitive classrooms. You can download the cards

here

  and

here

.

Lastly, I urge you to continue to build the positive relationships that help all of us keep going. Long-term studies of health and happiness point to the unparalleled power of positive relationships in helping people—of all ages, races, religions, languages, and income groups—grow, develop, learn, and maintain a sense of personal contentment and hope for the future. Here at Teaching Strategies, we are currently organizing our outreach efforts (such as professional development, blogs, webinars, focus groups, and social media) around supporting the well-being of educators, both as individuals and as a community. We are most excited about beginning our goal for 2022 of providing ways to connect you to each other and to expert advice and support in a way that suits your style and needs in the moment. I'll share more on that as it unfolds in the coming months! For now, we encourage you to join our Facebook Group

  to engage with other early childhood educators from across the world.
Again, we thank you for the work that you do every day and the openness with which you are willing to share your thoughts and feelings with us. You have our promise to keep listening and working to help in any way we can.