Company Updates
How can we connect with family and friends when we are not with them?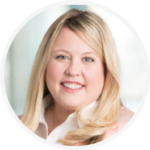 Breeyn Mack
Senior Vice President of Education, Teaching Strategies
I believe many of us share the sentiment that one of the hardest parts of 2020 has been not being able to spend time visiting with family and dear friends. I know many of us are feeling that gap even more at this time of year, which is often filled with extra opportunities to engage with those we love most. There are so many traditions, celebrations, and special interactions that many of us look forward to all year that are either not going to happen or are going to look very different in the coming weeks.
How can we help children in particular still experience the joys often associated with this time of year—thoughtful gift giving, community outreach, annual family traditions, a sense of closeness and connection to others?
How can we connect with family and friends when we are not with them?
By focusing on rich conversations and storytelling, thinking creatively, leveraging technology, and putting on our baking aprons, we've created an At-Home Guide Learning Plan that we hope will help children and families thoughtfully connect with family and friends this year during a holiday break that looks very different. Feel free to share this learning plan with families directly so they can access a collection of fun experiences to do at home with children, Modeled Moment videos to inspire meaningful interactions, and a Recipe Card for baking gingerbread cookies to enjoy and share!
In addition being a time of connection with those we love, this is often the time of year when we more explicitly discuss with young children the importance of helping others in need. Involving children in planning donations provides a wonderful opportunity for them to understand the importance of community and how each member of a community can make a big impact. In a year when more families than ever face uncertainty, it's so important that we collectively renew our commitment to thinking of the needs of others. With Teaching Strategies team members spread across the country, we've committed to preparing donations for our local communities this year through One Warm Coat and Toy for Tots.
While we all know it will certainly look different this year, we wish you a happy and healthy holiday season from everyone at Teaching Strategies and look forward to our continued partnership in 2021!
Don't miss our previous blog post
Taking a Collective Deep Breath: Reflections on 2020
You may also be interested in The Creative Curriculum for Preschool Teaching Guide: Bread Study!